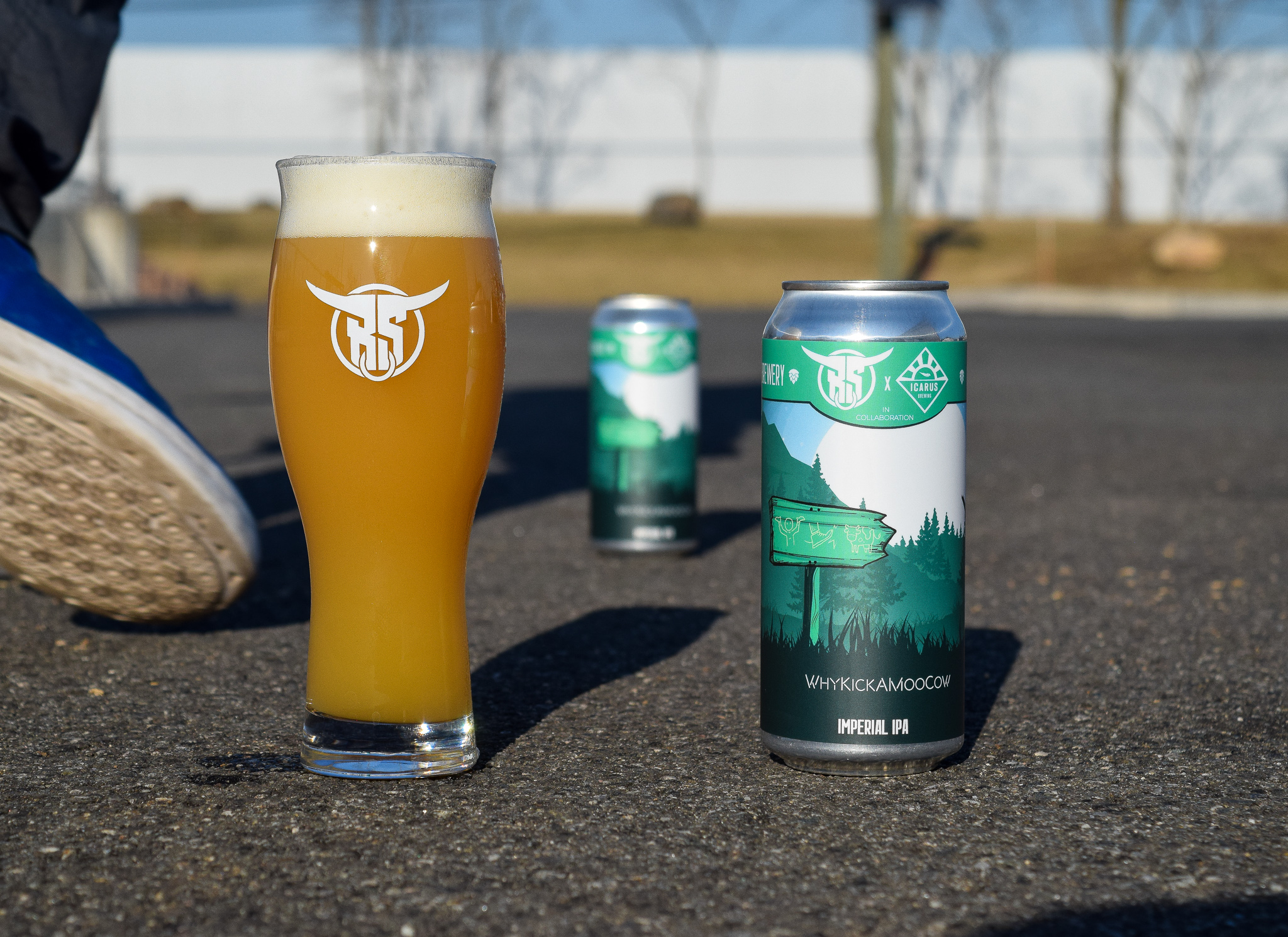 15 Feb

Why Would You Kick A Cow??

Why Kick A Moo Cow
???
That is the aged old question, usually asked after someone tries to find out where they are. But we still don't understand why anyone would want to kick a bovine
!!
We teamed up with the team from
Icarus Brewing Co.
to create this spinoff of one of their classic hoppy beers
!!
Originally Brewed with Motueka, Wakatu, Lupulin Citra Hops we decided to Bolero-fy (Trademark Pending) this classic IPA by adding some Columbus Salvo Hops and Lactose
.
WhyKickAMooCow will be hitting stores all over New Jersey starting TODAY
Bold = Stores receiving WhyKickAMooKow
Tuesday Feb 15th – Cherry Hill North + South 
White Eagle Riverside
Martins
Wineworks
Maro Brothers
Cork N Bottle Mt Holly
O'Connors
Classic Wine Wrightstown
Liquor Barn
Old Town Pub
Chickies Bordentown
Buy Rite Yardville
Canals Hamilton
East Windsor bottle King
Hamilton Shop Rite
Wegmans Princeton
Joe Canals Lawrenceville
Buy Rite Pennington
Canals Berlin
Palace Diner
Cinder Bar Williamstown
Clayton
Hops and Grapes
Canals Glassboro
Merrymans Pub
5 o'clock wine
Village Pub Swedesboro
Wine Warehouse mantua
Buy Rite West Deptford
Bobkat
Skeeters Pub
Wine Warehouse Gloucester
Cheers Vorhees
Warwick Wines Hi-nella
Colombo Liquors Magnolia
Old Rail Tavern
Shireys Liquors
Pour House Westmont
Wednesday Feb 16th – Shore North+ South
Buy Rite Hammonton
Gleesons
Circle Liquors
Joe Canals Fire Road
Terrace Tavern
Breakers
Spirits Forked River
Spirits Bayville
Cornerstone Kitchen
Home Wines Jackson
Flying Pig
Wegmans Ocean
JR Bevco Wall
PB Shore House
Spirits Point Pleasant
Buy Rite Silverton
Tre Pizza Brick
 Ramtown Wine
 Gateway Bar
 Royal Atlantic wines
Union Plaza Liquors
Gallos Aberdeen
Sammy D's Old Bridge
Thursday Feb. 17th – Central + West
Garys Wayne
 Liquor Outlet Boonton
Wegmans Hanover
Tommys Morris Plains
Hops //Famished Frog
Garys Bernardsville
Redwoods
Shoprite Chester
Shoprite Hackettstown Center
Liquor Factory Byram
Liquor Factory Hopatcong
Market Tavern
Ledgewood Bottle king
Best Cellars Ledgewood
Shoprite Wharton
Rock Island Lake Club
Jimmy Geez North
Uncorked West Milford
Harvest and Ale
Anthonys Coal Fired Wayne
The Yard Haledon
Bourbon Street Lebanon
Wegmans Bridgewater
Super Savers
Vintedge
NJ Wine Seller Green Brook
Bottle Republic
Hillsborough Bottle king
Buy Rite Milltown
NJ Wine Gallery Cliffwood
Wegmans Woodbridge
Oak Tree Liquors
Murphys Colonia
Wine Anthology
NJ Wine Seller Cranford
Buy Rite Union
Stirling Hotel
Office Tavern Summit
Beacon hill Club
Florham Park Liquors
L Towne
Glen Ridge bottle King
Kellys Belleville
Cowens Public
Friday Feb. 17th – Bergen + Hudson
Shoprite Wallington
Shoprite Lyndhurst
Clifton Commons
Stew Leonards Clifton
Tommys Clifton
Straphanger Saloon
Stew Leonards Paramus
Old Tappan Wine
Wegmans Montvale
Anthonys Coal Fired Ramsey
Ho-Ho-Kus Inn
Grand Opening North Haledon
Plank Pizza
BJs Teterboro
Hackensack Liquors
Linwood Hudson Lights
Beer Spot Fort Lee
Thirsty Quaker
High Spirits Bayonne
Buy Rite Kearny
 Total Wine River Edge