16 Oct

Whodunnit? MUE Release

Can you solve this week's mystery? #SolvetheMoostery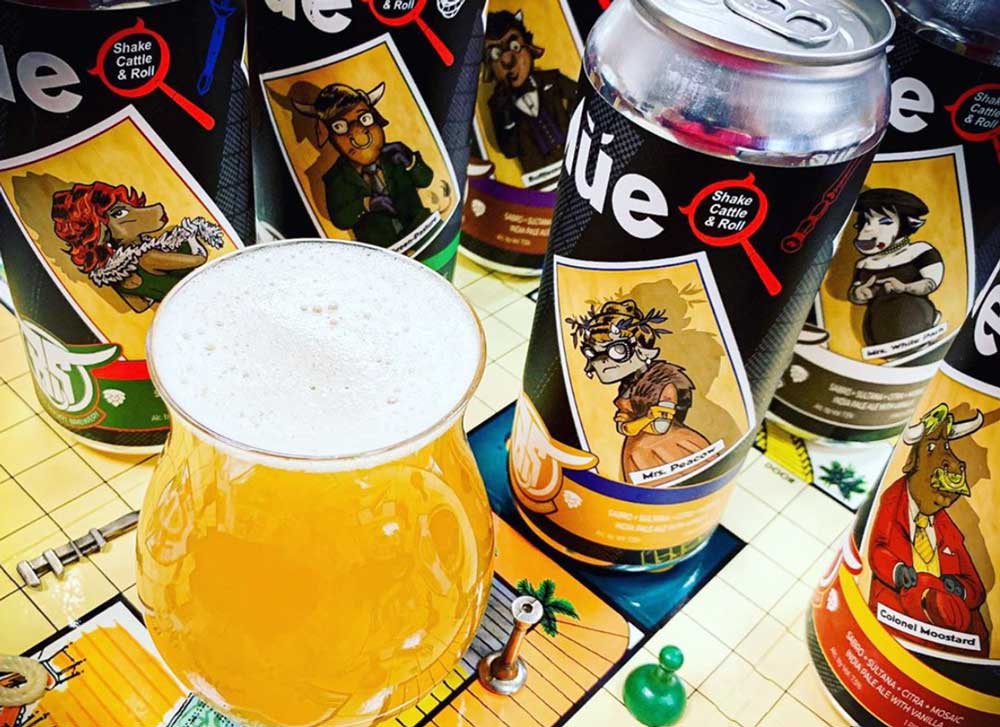 🔍 MUE 🔪 Are you ready to Shake, Cattle + Roll? Open the door and join the fray with this new 7.5% IPA brewed with Sabro, Citra, Mosaic and Sultana then finished off with Vanilla. Bursting with tropical coconut, overripe pineapple and kiwi 🥝 🥥 🍍 Six fantastic different labels featuring your favorite cast of cowacters, all with the same liquid inside.
16oz cans + draft throughout NJ. Limited PA/MA. 
🚐 *** CAN DISTRIBUTION DETAILS *** 🚐 
Distribution of MUE starts Wednesday, October 16th, with most spots snagging their allocations by Monday, October 21st.
Check back for daily updates. As always, please give us a chance to get these beers to our retail partners and for them to get them into systems/on shelves. Drop dates/locations are subject to change. Any questions hit us up on social media and we'll do our best to help.
WED, OCT 16th // Greater Cherry Hill + Hamilton/Princeton
– Wegmans Cherry Hill
– Cork N Bottle Haddon
– Canals Mt Ephraim
– Victors Liquors
– Warwick Wines HiNella
– Cherrywood Liquors
– Wine Warehouse Gloucester
– Timbercreek Liquors
– Bobkat
– Buy Rite West Deptford
– 5 O'clock Wines
– Canals Glassboro
– Hops and Grapes
– Landmark Glassboro
– Clayton
– Buy Rite Williamstown
– Canals Of Berlin
– Pic-a-lili
– Murphys Tabernacle
– Otts Medford
– Medford Wine and Spirits
– Wegmans Mt Laurel
– White Eagle Riverside
– Roger Wilco Pensauken
– Wineworks
– Joe Canals Burlington
– Classic Wine Wrightstown
– Liquor Barn
– Canals Hamilton
– Buy Rite Hamilton
– Ruserts Deli
– East Windsor Bottle King
– Cranbury Buy Rite
– Wegmans Princeton
– Joe Canals Lawrenceville
– Libbys Lawrenceville
– Buy Rite Pennington
– Pine Creek
THU, OCT 17th // Inner 287 + Hillsborough/Brunswicks/Hudson
– Joe Canals Woodbridge
– NJ Wine Sellers
– Park Beverage
– Buy Rite North Plainfield
– Ridge Fine Wines
– Jersey Fine Wines New Provedence
– Total Wine Union
– Shoppers Wine Union
– Chatham Fine Wines
– Livingston Bottle King
– Pleasant Valley Foods
– Cedar Grove Liquors
– Buy Rite Bloomfield
– Wine Country Bloomfield
– Clifton Commons
– Shoprite Wallington
– Bourbon Street Lebanon
– Wegmans Bridgewater
– NJ Wine Sellers Green Brook
– Buy Rite Bound Brook
– Home Wine (Formerly Garys Hillsborough)
– Petrocks Liquor
– Hillsborough Bottle King
– Buy Rite Monroe
– Jersey Fine Wines New Brunswick/ Wine World
– Adelphia
– VW Liquors
– Buy Rite Kearny
– Buy Rite Jersey City
– Thirsty Quaker
FRI, OCT 18th // Bergen
– Total Wine River Edge
– Glen Rock Bottle King
– Uncorked Hohokus
– Ridgewood Super Cellars
– Super Wine Warehouse
– Masons Cellar
– Annabellas
– USA Wine Traders Secaucus
– Buy Rite Fairview
– Dumont Bottle King
– La Taberna
– Haworth Wine
MON, OCT 21st // Northwest NJ + Shore North
–         Wayne Bottle King
–         Wine and Whiskey Pine Brook
–         Joe Canals Parsippany
–         Wine Outlet Boonton
–         Wegmans Hanover
–         Morris Plains Bottle King
–         Wine and Whiskey Morris Plains
–         Garys Bernardsville
–         Adelphia Bernardsville
–         Shoprite Chester
–         Mansfield Bottle kIng
–         Liquor Factory Byram
–         Marketplace
–         Ledgewood Bottle King
–         Best Cellars Ledgewood
–         Milton Inn
–         Jimmy Geez North
–         Best Cellars Haskell
–         Beef Trust
–         Wegmans Ocean
–         JR liquors Wall
–         Spirits Unlimited Point Pleasant
–         Forbes Liquor Brick
–         NJ Wine Gallery Brick
–         Spirits Unlimited Brick
–         Spirits Unlimited Jackson
–         Farmingdale Liquors
–         Wegmans Manalapan
–         Court Liquors
–         Shrewsbury Liquors
–         Union Plaza Liquors
–         Garden State Discount Liquors
TUE, OCT 22nd // Shore South
–         Toast Vineland
–         Circle Liquors
–         Hardys Liquors Mays Landing
–         Chickie and Petes Egg Harbor Township
–         Joe Canals Fire Road
–         Smittys Buy Rite
–         Tuckerton Liquors
–         Spirits Unlimited Manahawkin
–         Applebees Forked River
–         Spirits Unlimited Forked River
–         Forked River Wine and Spirits
–         Spirits Xpress
–         NJ Wine Gallery Brick