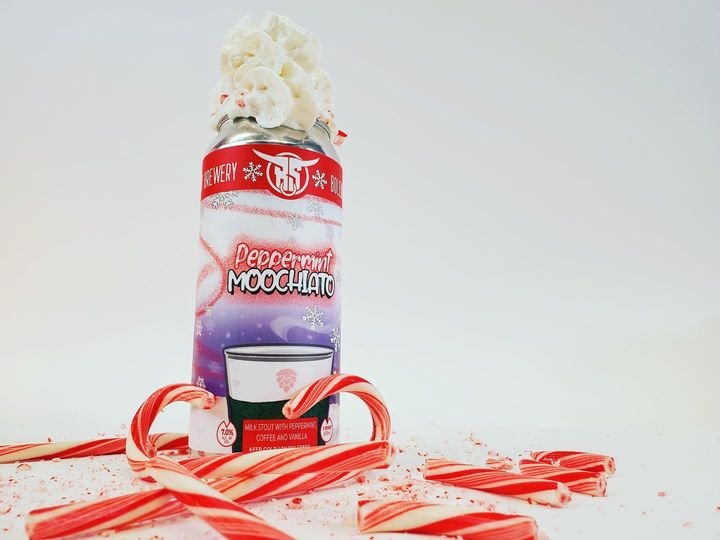 01 Dec

Tis the Season! Peppermint Moochiato Hits Distro!
Peppermint Moochiato
Winter is upon us and we took our easy drinking Moochiato Milk Stout base and conditioned on locally roasted coffee from our friends at @roastd.coffee as well as over 2 lbs per barrel of Candy Canes! Holiday goodness in your glass!
TUESDAY, December 1st // Cherry Hill North + South
Wegmans Princeton
Wegmans Mt Laurel
Martins Liquors
Esquire Liquors
White Eagle Riverside
Roger Wilco Pennsauken
Wineworks
Canals Bottlestop Marlton
Cork N Bottle Mt Holly
Hamilton Tap and Grill (case Pick Up)
East Windsor Bottle king
Joe Canals Lawrenceville
Libbys Lawrenceville
Buy Rite Pennington
Canals Berlin
House of Brews
Buy Rite Williamstown
Richards Liquors
Clayton
Hops and Grapes
Canals Glassboro
5 o'clock Wines
Wine Warehouse Mantua
Buy Rite West Deptford
Bobkat
Wine Warehouse Gloucester
Cherrywood Liquors
Warwick Wines Hi-Nella
Colombo Liquors Magnolia
Canals Bellmawr
Bottle Stop Gloucester City
Cork N Bottle Haddon
Pour House Westmont
Taunton Forge Liquors
WEDNESDAY, December 2nd // Shore North + South
Wegmans Ocean
JR Liquors Wall
Wine Outlet Wall
Amendment 21
Spirits Point Pleasant
Wine Academy Lakewood
Spirits Brick
Buy Rite Silverton
Toms River Buy Rite
Spirits Jackson
B2 Bistro Red Bank
Bottles By Sickles
Royal Wine and Spirits
Little Silver Bottle Shop
Rumson Wine and Spirits
MJs Middletown
Gallos Aberdeen
Maloneys
Garden State Discount Liquor
Canals Bridgeton
Joe Canals Millville
Joe Canals Rio Grande
Circle Liquors
Passion Vines EHT
Hardys Liquors Mays Landing
Joe Canals Egg Harbor
Joe Canals Fire Road
Buy Rite Ventnor
Spirits Forked River
Forked River wine and Spirits
Spirits Bayville
Spirits Fischer Blvd
Spirits Crossroads
THURSDAY, December 3rd // NorthWest + Central North
Garys Wayne
Long Hill Liquors
Wine Outlet boonton
Wegmans Hanover
Garys Bernardsville
Redwoods
Shoprite Chester
Shoprite Hackettstown Center
Shoprite Byram
Ledgewood Bottle king
Best Cellars Ledgewood
Shoprite Succasunna
Shoprite Wharton
Stew N Dollys
Milton Inn
Jimmy Geez North
Beef Trust
Little Falls Liquors
Bourbon Street Lebanon
Wegmans Bridgewater
NJ Wine Seller Green Brook
Liquor Barn Raritan
Home Wine Hillsborough
Petrocks
Buy Rite Milltown
Adelphia
Jersey Fine Wines East Brunswick
VW Liquors Edison
Petersons Wine Unlimited
Park Beverage
Buy Rite Union
Glen Ridge Bottle king
Shoprite Wallington
FRIDAY, December 4th // Bergen + Hudson
Shoprite Lodi
Hillsdale Bottle King
Ramsey Bottle King
Shannon Rose Ramsey
Uncorked HoHoKus
Grand Opening North Haledon
Blackjack Mulligans Hawthorne
Glen Rock Bottle King
Blackjack Mulligans Garfield
Linwood Hudson Lights
Bottle Co North Bergen
Blackjack Mulligans Secaucus
Wine Dads
8th Street Tavern
Buy Rite Jersey City
Thirsty Quaker
High Spirits Bayonne
Buy Rite Kearny
Shoprite Lyndhurst