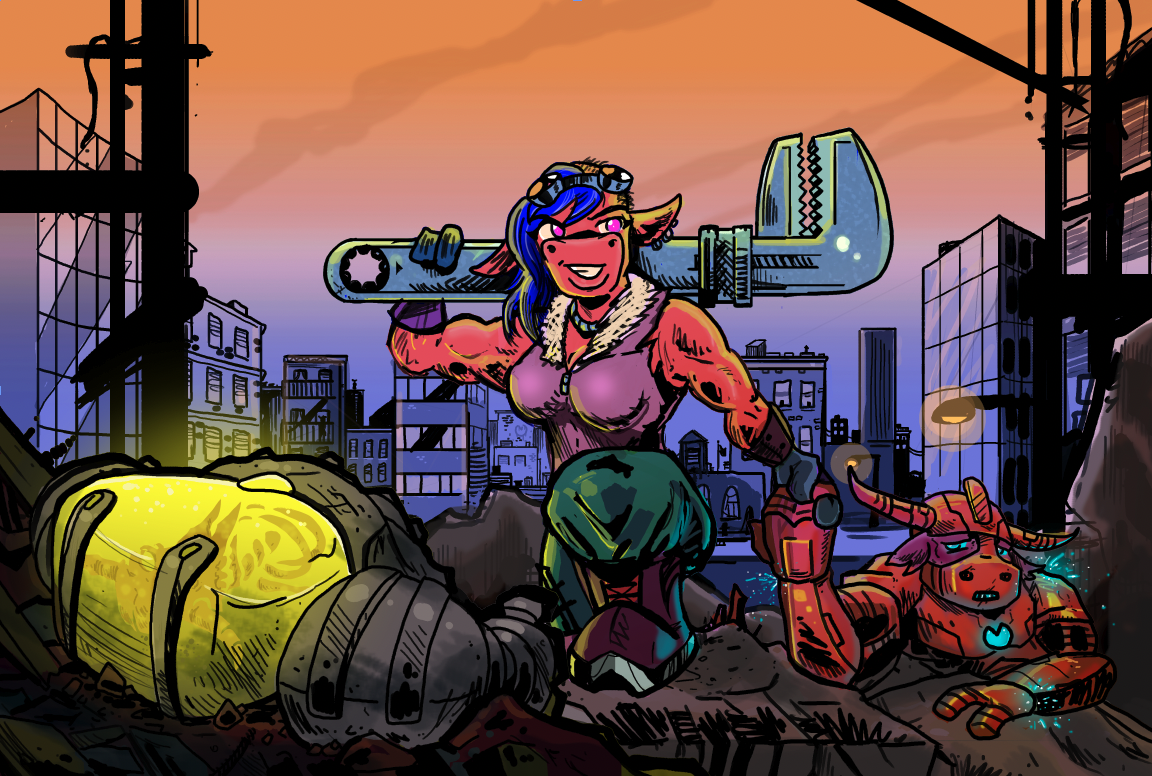 17 Jan

A New Hero Has Emerged!!!

Cowmics #3 Taurque
As the nuclear sunset began to wane, all looked bleak for Cattle Axe. Chernobull began to smirk as he knew he had the upper hoof. Nothing would stop him this time. Then… darkness.
Meanwhile as the sirens blared, and citizens evacuated. Only one calm and collected Bovine had no panic, no alarm, no hustle. Jazzmin looked across the rubble and saw nothing but opportunity and action. She always had a knack for building things, and now was an opportunity to show off her talents.
Grabbing her tools, she collected a few articles of debris and began assembling. Knowing precisely the right tool for every job this was gonna be a piece of cake.
Radiation shielding?
Reinforced Ultracooled Steel?
Nuts?
Bolts?
The most badass Bovine in the city?!
Jazzmin glanced in the reflection of her new creation and winked.
"Get your camera World! It's time to introduce you, to Taurque!"
Arriving at ground zero on her homemade hoverboard, Taurque surveyed the zone. Cattle Axe was beginning to engage. Taurque sighed.
"Such a waste."
She knew this was not going to end well. The radioactive particles emitted from Chernobull would eat right through Cattle Axes mystical Enchanted Armor.
Jazzmin looks at the camera mounted on her drone and quips, "It's time to fry!"
Armed with a shield and her fathers Wrench, Taurque enters the fray. Chernobull's blast ricochets off Taurque's Makeshift Shield. She charges straight towards the Villainous Ticking Timebomb.
Caught off guard by the recklessness of her strategy, Chernobull is overcome.
This Badass DIPA may look cute and friendly, but with three different types of hops (Cashmere, Cryo Azacca and Vic Secret), it packs a punch that no one sees coming
!!
Make sure to look for Taurque in a store near you starting this week!!
Stores in Bold Are Receiving Taurque 
Tuesday Jan. 28th – Cherry Hill North + South
Wegmans Cherry Hill
Cheers Wine Vorhees
Warwick Wines Hi-Nella
Colombo Liquors Magnolia
Canals Bellmawr
Bobkat
Wine Warehouse Gloucester
Cinder Bar Williamstown
Clayton Liquors
Cork N Bottle Mt Holly
Wineworks
Roger Wilco Pennsauken
White Eagle Riverside
Liquor Barn
Old Town Pub
Chickies Bordentown
Flying Pig Bordentown
Canals Hamilton
Cranbury Buy Rite
Libbys Lawrenceville
Buy Rite Pennington
Rocky Hill Inn
Wednesday Jan. 19th – Shore North + South
Spirits Point Pleasant
NJ Wine Gallery Brick
Spirits Forked River
Tennessee Ave Beer Hall
Circle Liquors
Hardys Liquors Mays Landing
Wegmans Ocean
Amendment 21
Spirits Jackson
Farmingdale Liquors
Total Wine Eatontown
Middletown Bottle King
TST BBQ
Thursday Jan 20th – Central + West Jersey
Wegmans Bridgewater
Bottle Republic
Petrocks
Bottle Republic Franklin Park
Buy Rite Milltown
NJ Wine Gallery Cliffwood
Tio Edison
Wegmans Woodbridge
Blu Alehouse Woodbridge
Wine Anthology
NJ Wine Seller Cranford
Beacon Hill Club
Coda Kitchen
Tommys Tavern Clifton
Garys Wayne
Shoprite Parsippany
Wegmans Hanover
Tommys Morris Plains
Garys Bernardsville
Shoprite Chester
Long Valley Brew Pub
 Taphouse Grille Hackettstown
Sandys Flanders
Best Cellars Ledgewood
Shoprite Sparta
Mac and Lindys Vernon
Beef Trust
Friday Jan. 21st – Bergen + Hudson 
Blackjack Mulligans Secaucus
Shannon Rose Clifton
Ho-Ho-Kus Inn
Ramsey Bottle King
Corkscrew