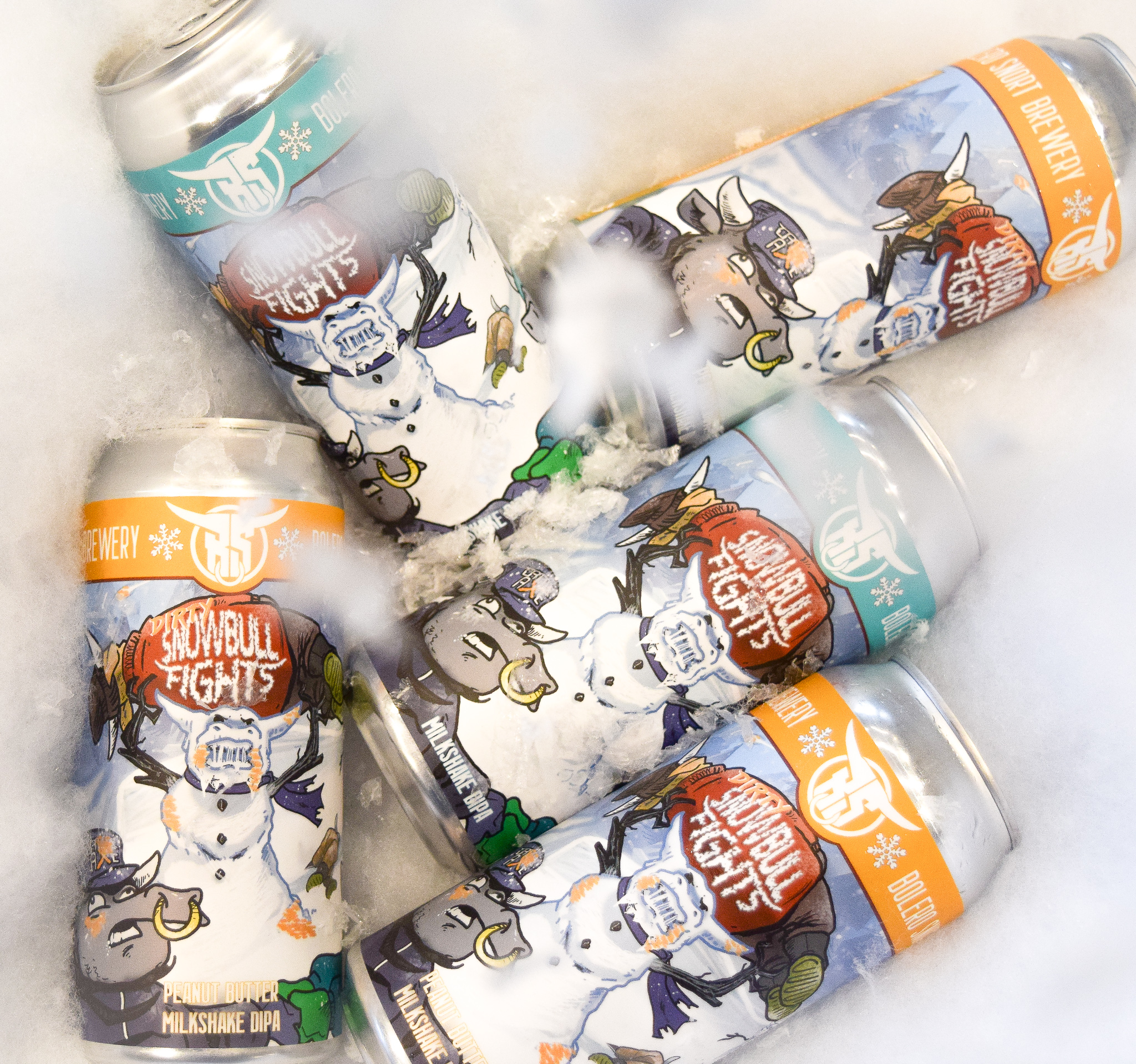 07 Dec

It's Every Bull for Themselves in This Snowbull Fight

Making its long awaited return to the taps is our Milkshake DIPA, Snowbull Fights
!
We used 3 types hops including Sultana, Cryo Citra and Cryo Mosaic and then added some delicious Vanilla and Milk Sugar to the brew to make a wintertime classic,
So make sure to head over the to your local store this week and pick up a 4pk!!!!
Bold = Received Snowbull Fights
Tuesday Dec. 7th – Cherry Hill North + South 
Martins
White Eagle Riverside
Roger Wilco Pennsauken
Wegmans Cherry Hill
Wineworks
Buy Rite Yardville
Canals Hamilton
Cranbury Buy Rite
Wildflowers Inn
Buy Rite Pennington
Montgomery Discount Wine
Canals Berlin
Clayton
Canals Glassboro
PJ Whelians Washington
Village Pub Sewell
5 O'Clock Wine
Cinder Bar Clarksboro
Buy Rite West Deptford
Bobkat
Wine Warehouse Gloucester
Canals Bellmawr
Colombo Liquors Magnolia
Cheers Vorhees
Wednesday Dec. 8th – Shore North + South
Total Wine Eatontown
 Wanamassa
Spirits Point Pleasant
Spirits Brick
Wine Academy Lakewood
Ramtown Wine
Farmingdale Liquors
Royal Atlantic
Rt. 40 Liquors
London Discount Liquors
Lincoln Liquors
Chickies Egg Harbor
Circle Liquors
Joe Canals Fire Road
Buy Rite 72 Manahawken
Spirits Forked River
B2 Toms River
Shogun Legends Wall
Yorktown Discount Wine
Woodys Tinton Falls
Thursday Dec. 9th – Central + West
Garys Wayne
Wayne Bottle King
Wegmans Hanover
Marriott Hanover
Shoprite Cedar Knolls
Shoprite Chester
Market Tavern
Liquor Factory Byram
Sandys Budd Lake
Shoprite Succasunna
Best Cellars Ledgewood
Shoprite Wharton
Stew N Dollys
Wantage Liquors
Mac and Lindys
Beef Trust
Sunset Pub
Mothers Ale House
Bourbon Street Lebanon
Wegmans Bridgewater
Vintedge
NJ Wine Seller Green Brook
Bottle Republic
Petrocks
Hillsborough Bottle King
Green Turtle
Ryans Pub
Adelphia
NJ Wine Seller Cliffwood
Wegmans Woodbridge
Joe Canals Woodbridge
Murphys Colonia
Wittys Rahway
Irving Inn
Paragon
NJ Wine Seller Cranford
Buy Rite Union
Coda Kitchen
Beacon Hill Club
Friday Dec. 10th – Bergen + Hudson 
Stews Paramus
Ho-Ho-Kus Inn
Blackjack Mulligans Hawthorn
Biagios
Midland Brew House
Beer Spot Fort Lee
Buy Rite Jersey City
Tommys Clifton
Barrow House
Shoprite Lyndhurst
Blarney Station
Shoprite Wallington