08 Nov

Uugs Season Continues! Gingerbread Moochiato Release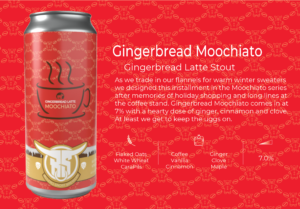 🌬 A little nip in the air…so we're keeping our uggs on a bit longer ❄️ Canning today and hitting shops starting Wednesday it's Gingerbread Moochiato ☕️ same great coffee laden 7% milk stout base with loads of Ginger, cinnamon, clove, vanilla and just a hint of maple to round things out. Holiday shopping just got better 🛍 .
16oz cans + draft throughout NJ. Limited PA. 
🚐 *** CAN DISTRIBUTION DETAILS *** 🚐 
Distribution of Gingerbread Moochiato starts Wednesday, November 6th, with most spots snagging their allocations by the early next week.
Check back for daily updates. As always, please give us a chance to get these beers to our retail partners and for them to get them into systems/on shelves. Drop dates/locations are subject to change. Any questions hit us up on social media and we'll do our best to help.
WED, NOV 6th // Greater Cherry Hill + Hamilton/Princeton
  Wegmans Cherry Hill
Pour House Westmont
Cork N Bottle Haddon
Victors Liquors
Warwick Wines HiNella
Wine Warehouse Gloucester
Cherrywood Liquors
Bobkat
Five O'Clock Wines Mullica Hill
Spirits Warehouse Woodbury
Buy Rite West Deptford
Wine Warehouse Mantua
Hops and Grapes
Clayton Liquors
Shoprite of Washington Township
Buy Rite Williamstown
Canals Berlin
Otts Medford
Joe Canals Delran
  Roger Wilco Pennsauken
Canals Bottlestop Marlton
Cork n Bottle Mt Holly
Joe Canals Burlington
Liquor Barn
Canals Hamilton
Ruserts Deli
East Windsor Bottle king
Cranbury Buy Rite
Joe Canals Lawrenceville
Buy Rite Hamilton
Blend
Libbys Lawrenceville
  Buy Rite Pennington
Pine Creek Liquor
THU, NOV 7th // Inner 287
Joe Canals Woodbridge
NJ Wine Sellers
Sunrise Cellars Westfield
Park Beverage
Jersey Fine Wines New Prov
Buy Rite Union
Wine Barrel
Winberries Summit
Florham Park Liquors
Livingston Bottle King
Cedar Grove Liquors
Wine Country Bloomfield/ Brookdale
Clifton Commons
Shoprite Wallington
FRI, NOV 8th // Bergen + Hillsborough/Brunswicks/Hudson
Total Wine River Edge
Shoprite Northvale
Wegmans Montvale
Ramsey Bottle King
Uncorked HoHoKus
Glen Rock Bottle King
Diamond Liquor and Tavern
Super Wine Warehouse
Stew Leonards Paramus
Haworth Wine
Linwood Hudson Lights
USA Wine Traders Secaucus
Masons Cellar
Westmont Wines
Hackensack Liquors
Bourbon Street Lebanon
Wegmans Bridgewater
Super Savers
Buy Rite Bound Brook
Bottle Republic
Home Wines (Formerly Garys Hillsborough)
Hillsborough Bottle King
Jersey Fine Wines East Brunswick
Buy Rite Monroe
Buy Rite Kearny
Thirsty Quaker
Jersey Wines JC
MON, NOV 11th // Northwest NJ
Wine and Whiskey Pine Brook
Wine Outlet Boonton
Wegmans Hanover
Morris Plains Bottle King
Garys Bernardsville
Adelphia Bernardsville
Shoprite of Chester
Mansfield Bottle King
Sandys Flanders
Market Place
Sandys Budd Lake
Liquor Factory Byram
Shoprite Byram ((NEW))
Ledgewood Bottle King
Best Cellars Ledgewood
Shoprite Wharton
Shoprite Sparta ((NEW))
Milton Inn
Best Cellars Haskell
Beef Trust
Buy Rite Bloomingdale
TUE, NOV 12th // North Shore
Wegmans Manalapan
Wegmans Ocean
JR Liquors Wall
Spirits Unlimited Point Pleasant
NJ Wine Gallery Brick
Spirits Unlimited Brick
Spirits Unlimited Jackson
Bourbon Scotch Beer Lakewood
Farmingdale Liquors
Garden State Discount Liquors
NJ Wine Seller