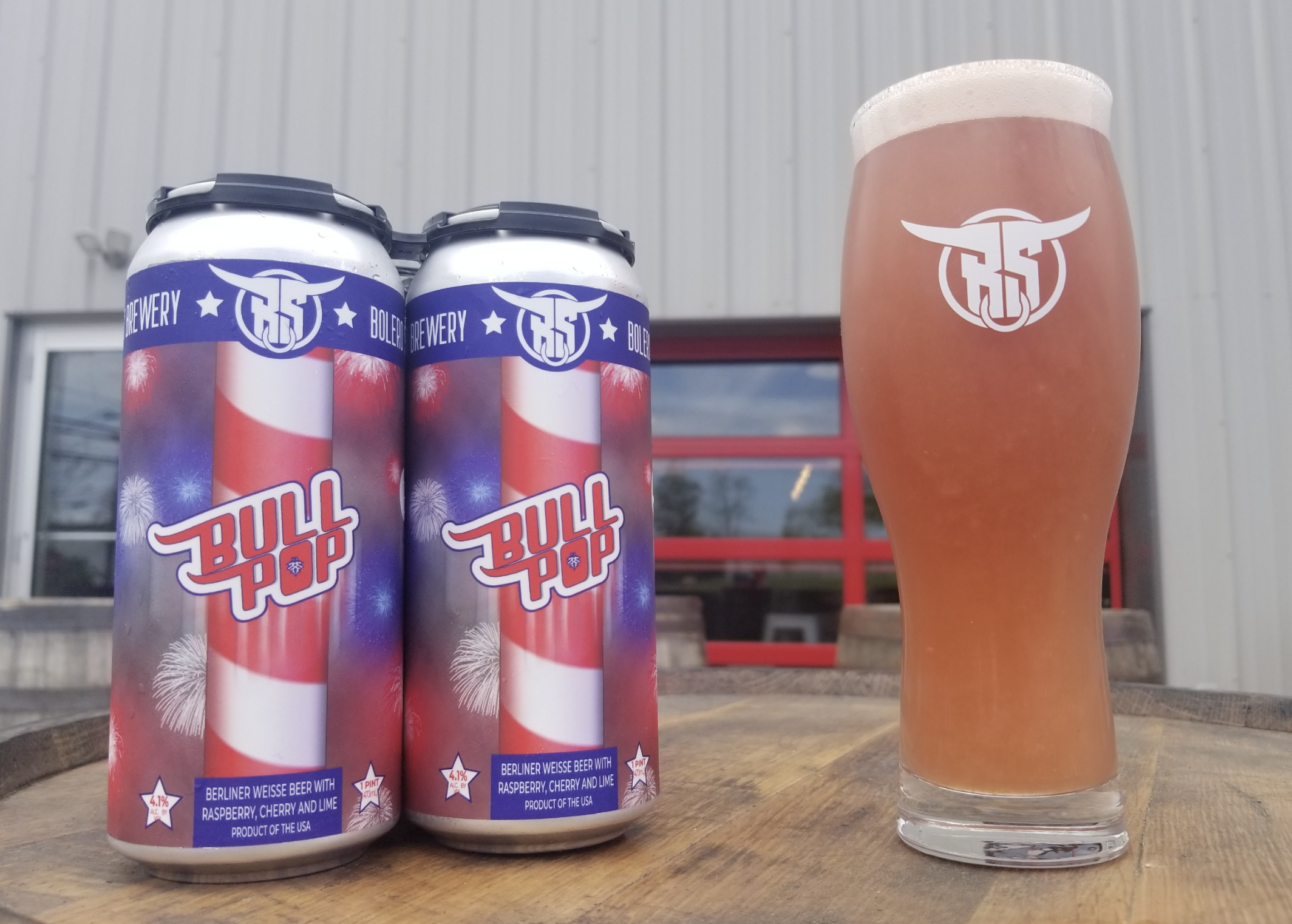 02 Jul

Pre 4th of July Distro: Pina+Pop

The 4th is this weekend and we've got you covered with a bevy of summer crushers to go along with your burgers and brats this weekend!

Bunch of cans hitting distribution all this week so stock up at your favorite Bolero retailer!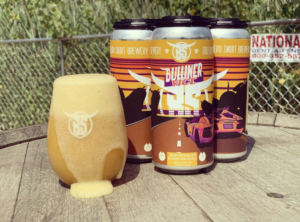 First up the next iteration in our Bulliner Vice series.  For this go around we pushed this 4.9% to the max with tons of 🌴 passionfruit, a little papaya and peach 🍑 to round things out.
Extremely Limited 16oz 4-packs. NJ only. Not all stores receiving allocations.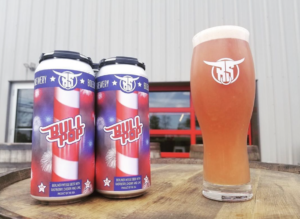 Next a fresh batch of 💥Bull Pop Berliner 🇺🇸 which is about as patriotic as it gets. Tart and refreshing, jam packed with Cherry, Lime and Raspberry – just like those red, white and blue pops.
Limited 16oz 4-packs. NJ only. 
Another fan fave returns with a fresh run of Piña Bullada, our 4.5% wheat inspired by the poolside cocktail. Loaded with pineapple, coconut and lime juice and finished off with vanilla.
16oz 4-packs available throughout NJ.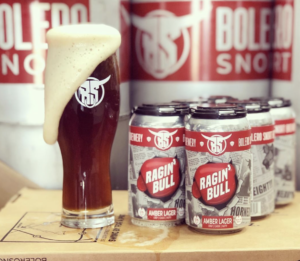 Last but certainly not least is our go burger and beer pairing. Ragin' Bull is a perfect one, two combo with most anything off the grill. Crisp and flavorful with background notes of toasted nuts and hints of roasty chocolate.
12oz 6-packs available throughout NJ. 
🚐 *** CAN DISTRIBUTION DETAILS *** 🚐 
Distribution of  started Monday, June 29th and we're hitting the last of our stores this Thursday, July 2nd. For a listing of how are partners are handing sales in these times visit: https://bolerosnort.com/findbolero/
Check back for daily updates. As always, please give us a chance to get these beers to our retail partners and for them to get them into systems/on shelves. Drop dates/locations are subject to change. Any questions hit us up on social media and we'll do our best to help.
Monday, June 29th // South Shore + I287
*Reinbro / Watermelon Crushabull / Bull Pop / Vice ONLY*
Canals Bridgeton
Joe Canals Millville
Joe Canals Rio Grande
Gleesons
Circle Liquors
Passion Vines Egg Harbor Township
Hardys Liquors Mays Landing
Joe Canals Egg Harbor
Joe Canals Fire Road
Tritons LBI
Shell Liquors
Spirits Unlimited Forked River
Forked River Wine and Spirits
Spirits Unlimited Bayville
Spirits Unlimited Crossroads
Chef Mikes ABG
Bourbon Street Lebanon
Wegmans Bridgewater
Liquor Barn Raritan
Super Savers
NJ Wine Seller Green Brook
Bottle Republic
Home Wine and Marketplace
Petrocks
Hillsborough Bottle king
Green Turtle
Buy Rite Milltown
Jersey Fine Wines East Brunswick
Adelphia East Brunswick
Wittys South River
Wegmans Woodbridge
Joe Canals Woodbridge
Wine Anthology
Sunrise Cellars Westfield
Park Beverage
Jersey Fine Wines East Brunswick
Glen Ridge Bottle King
Wine Country Bloomfield
Kellys Belleville
Shoprite Clifton
Tuesday, June 30th // Greater Cherry Hill + Hamilton/Princeton
Murphys Tabernacle
Otts Medford
Canals Berlin
Richards Liquors
Clayton
Hops and Grapes
Canals Glassboro
5 oclock wine Mullica Hill
Village Pub Swedesboro
Wine Warehouse Mantua
Buy Rite West Deptford
Bobkat
Wine Warehouse Gloucester
Cherrywood Liquors
Warwick Wines Hi-Nella
Colombo Liquors Gibbstown
Colombo Liquors Magnolia
Canals Bellmawr
Cork N Bottle Haddon
Wegmans Cherry Hill
Wegmans Princeton
Wegmans Mt Laurel
Martins
Joe Canals Delran
White Eagle Riverside
Roger Wilco Pennsauken
Mt Laurel Wine
Wineworks
Canals Bottlestop Marlton
Maro Brothers
Cork N Bottle Mt Holly
John and Mollys
Classic Wine Wrightstown
Liquor Barn
Chickie and Petes Bordentown
Buy Rite Yardville
Hamilton Tap and Grill
Canals Hamilton
East Windsor Bottle King
Cranbury Buy Rite
Joe Canals Lawrenceville
Libbys Lawrenceville
Buy Rite Pennington
Pine Creek
Steeles Wine
Rocky Hill Inn
Wednesday, July 1st // Shore North + Bergen/Hudson
Wegmans Manalapan
Wegmans Ocean
JR Liquors Wall
Spirits Unlimited Point Pleasant
Wine Academy Lakewood
NJ Wine Gallery Brick
Spirits Unlimited Brick
Buy Rite Silverton
Toms River Buy Rite
Spirits Unlimited Jackson
Farmingdale Liquors
Woodys Farmingdale
Asbury Ale House
Wanamassa Liquors
Save Rite Oakhurst
Nip-N-Tuck
Little Silver Bottle Shop
The Cellar
Middletown Bottle king
Maloneys
Save Rite Matawan
Amboy Ale House
Garden State Discount
Shoprite Lodi
Wegmans Montvale
Ramsey Bottle King
Grand Opening North Haledon
Super Wine Warehouse
Glen Rock Bottle King
Beekmans Glen Rock
Office Ridgewood
Ridgewood Super Cellar
Hillsdale Bottle King
Super Cellar Westwood
Barrel and Brew New Milford
La Taberna
Beer Spot Fort Lee
Buy Rite Fairview
Pier 115
Shoprite Hoboken
8th Street Tavern
Buy Rite Jersey City
Thirsty Quaker
Corkscrew
Buy Rite Union City
USA Wine Trader Secaucus
Blackjack Mulligans Secaucus
Clifton Commons
Shoprite Lyndhurst
Mason Cellar
Shoprite Wallington
Section 201
Thursday, July 2nd // Northwest 
Long Hill Liquors
USA Wine Traders
Garys Wayne
Wayne Bottle King
Sunrise Cellars Caldwell
Joe Canals Parsippany
Shoprite Parsippany
Wine Outlet Boonton
Wegmans Hanover
Morris Plains Bottle King
Wine and Whiskey Morris Plains
Sandys Flanders
Marketplace
Best Cellars Ledgewood
Ledgewood Bottle King
Shoprite Wharton
Milton Inn
Blu Alehouse Riverdale
Beef Trust
Anthonys Coal Fired Pizza Wayne
Wine and Beverage Depot Totowa
Garys Bernardsville
Shoprite Hackettstown Center
Liquor Factory Byram
Shoprite Byram
O'Reillys Pub
Shoprite Sparta
Shoprite Wantage
Shoprite Franklin
Stew N Dollys Ogdensburg
Jimmy Geez North
Pioneer
Maggies Ringwood
Sunset Pub Lincoln Park
Prime 94
Bourbon Street Lebanon
Wegmans Bridgewater
Liquor Barn Raritan
Bottle Republic
Twenty/20
Home Wine and Marketplace
Buy Rite Milltown
Jersey Fine Wines East Brunswick
Adelphia East Brunswick
Wittys South River
VW Liquors
Wegmans Woodbridge
Joe Canals Woodbridge
Wine Anthology
Cranford Hotel
NJ Wine Seller
Jersey Fine Wines New Prov
Total Wine Union
Roselle Park Liquor and Food
Buy Rite Union
Wine Barrel Maplewood
Garys Madison
Florham Park Liquors
Livingston Bottle King
Pleasant Valley Foods
Bonds West Orange
Glen Ridge Bottle King
Grand Saloon
Shoprite Clifton
Have a happy and healthy 4th of July! Thank you for all of the support!