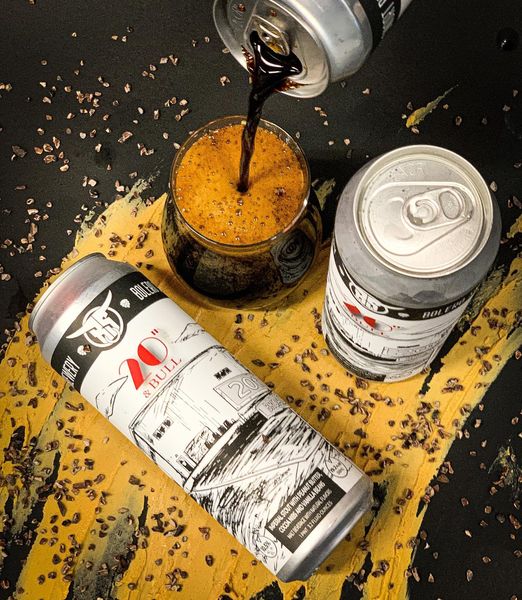 19 Jan

Oh Snap! 4 New Brews Slamming the Shelves

We brewed our very first commercial beer on January 13, 2013. It's fitting that exactly 8 years later we canned up our first drop for this weekend's Anniversary Celebration. Originally brewed to commemorate finding the property that would ultimately be our home, then again to commemorate its opening last year, we're stoked to bring back on of our faves with this
Cocoa Peanut Butter Cream Imperial Milk Stout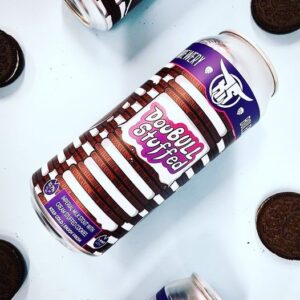 Who doesn't love Doubull Stuffed? We're finally bringing back our cream-filled chocolate cookie stout. Dark, viscous, and sweet, this bad boy pours heavy and clocks in at 10.7% abv. It's not for the faint of heart, but in this day and age, the last thing we can all agree on is that milk and cookies rules, and this beer wants to remind you of that.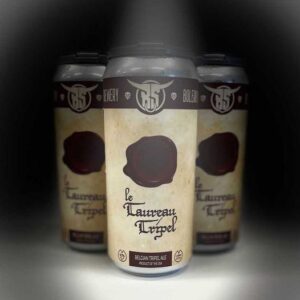 Five long years ago, we decided to do something different to celebrate our anniversary, and came up with (Le) Taureau Tripel, a big and bold Belgian inspired ale. We were so enamored with it, that a year later we brought it back and Bolero-fied it. Long a favorite recipe for our team, we've finally dusted this one off and brought it back to life. This brilliant 9.7% Belgian Strong Ale packs a bold but refreshing punch, with strong banana aromatics and a semi dry finish.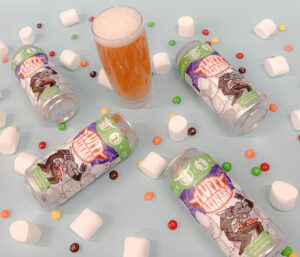 This brew needs no introduction, our 6.3% Marshmallow Candy Sour brewed with our friends at ImprintBeerCo!
TUESDAY, January 19th // Cherry Hill North + South
Wegmans Cherry Hill
Esquire Liquors
Roger Wilco Pennsauken
Wineworks
Canals Bottlestop Marlton
Maro Bros
Cork N Bottle Mt Holly
Canals Burlington
Chickie and Petes Bordentown
Canals Hamilton
East Windsor Bottle king
Rastelli Fresh Market
Cranbury Buy Rite
Joe Canals Lawrenceville
Buy Rite Hamilton
Libbys Lawrenceville
Buy Rite Pennington
Brick Farm
Canals Berlin
House of Brews
Cinder Bar Williamstown
Clayton Liquors
Hops and Grapes
5 O'clock Wine
Cinder Bar Clarksboro
Buy Rite West Deptford
Bobkat
Wine Warehouse Gloucester
Cherrywood Liquors
Balsamos Pizza
Warwick Wine Hi-Nella
Colombo Liquors Magnolia
Victors Liquors
Canals Bellmawr
Bottle Stop Gloucester City
Pour House Westmont
Classic Wine Wrightstown
WEDNESDAY, January 20th // Shore North + South // Central North
Wegmans Ocean
JR Liquors Wall
B2 Point Pleasant
Spirits Point Pleasant
Wine Academy Lakewood
NJ Wine Gallery Brick
Spirits Brick
Buy Rite Silverton
Spirits Fischer Blvd
Spirits Crossroads
Toms River Buy Rite
Spirits Jackson
Wegmans Manalapan
Farmingdale Liquors
Asbury Ale House
Wanamassa Liquors
Nip-N-Tuck
Bottles By Sickles
Royal Atlantic Wine
Buy Rite Holmdel
Gallos Aberdeen
Save Rite Matawa
Spirits 437 Bayville
Shell Liquors
Buy Rite Hammonton
Hardys Liquors Mays Landing
Chickies Egg Harbor
Joe Canals Egg Harbor
Tennessee Ave Beer Hall
Buy Rite Ventnor
Passion Vines EHT
Circle Liquors
Gleesons
Canals Bridgeton
Bourbon Street Lebanon
Wegmans Bridgewater
Super Savers
NJ Wine Seller Green Brook
Capital Craft Green Brook
Bottle Republic
Home Wine Hillsborough
Petrocks
Wegmans Woodbridge
Joe Canals Woodbridge
Paragon
NJ Wine Seller Cranford
Fanwood Liquors
Stirling Hotel
River Grille Chatham
Buy Rite Union
Total Wine West Orange
Lucky 7 North Arlington
Kellys Belleville
Clifton Commons
Tommys Tavern Clifton
THURSDAY, January 21st // North Central + North West
Little Falls Liquors
Garys Wayne
Wayne Bottle King
Liquor Outlet Boonton
Capital Craft East Hanover
Super Wine Warehouse
Office Tavern Ridgewood
Wegmans Montvale
Wegmans Hanover
Hops/ Famished Frog
Garys Bernardsville
Mansfield Bottle King
Shoprite Hackettstown Center
Liquor Factory Byram
Shoprite Byram
Liquor Factory Hopatcong
Sandys Budd Lake
Sandys Flanders
Shoprite Succasunna
Ledgewood Bottle King
Best Cellars Ledgewood
Shoprite Wharton
Taphouse 15
Milton Inn
Mac and Lindys
Pioneer
Best Cellars Haskell
FRIDAY, January 22nd // Bergen + Hudson
 USA Wine Traders Secaucus
Blackjack Mulligans Secaucus
Wine Dad
Buy Rite JC
Thirsty Quaker
Corkscrew Bar
Rutherford Wine Shoppe
Shoprite Lyndhurst
Linwood Hudson Lights
USA Wine Traders Saddle Brook
Midland Brew House
Hillsdale Bottle King
Westwood Super Cellars