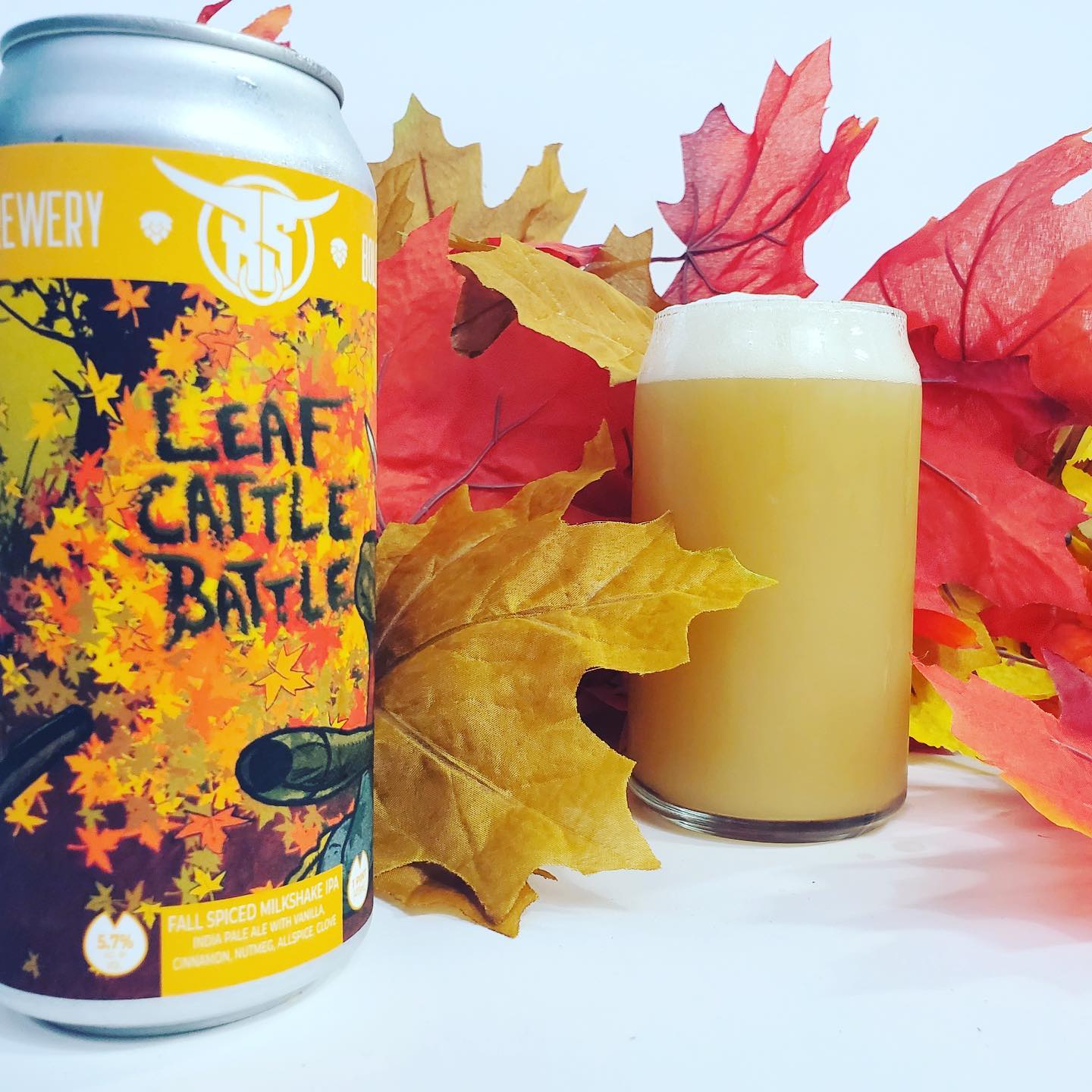 15 Sep

NEW BREWS WEEK: LEAF CATTLE BATTLE + HORNUNGANDR

The Autumn is readily upon us, but we shall never stop fighting! The Next brew in our Fights series, LEAF CATTLE BATTLE, is blasting with creaminess and punctuated with Fall spices! Taste the changing of seasons with this Milkshake IPA and be whisked away with images of Autumnal bliss.
The gods are rising! Carve some Runes, go Berserk, and Pillage with this homage to Viking Mythology with Hornungandr! This Behemoth of an Imperial Sour is slithering with fruit flavors sure to please the Pantheon of Valhalla! SKOL!
MONDAY, SEPTEMBER 14th // Shore South
Buy Rite Hammonton
Canals Bridgeton
Toast Wine
Joe Canals Millville
Old Oar House
Joe Canals Rio Grand
Circle Liquors
Passion Vines Egg Harbor
Hardys Liquors
Joe Canals Egg Harbor
Joe Canals Fire Road
Tennessee Ave Beer Hall
Buy Rite Smithville
Tuckerton Liquors
Shell Liquors
Spirits Unlimited Forked River
Forked River Wines + Spirits
Spirits Unlimited 437 Bayville
Spirits Unlimited Fischer Blvd
Spirits Unlimited Crossroads
Spirits Xpress
TUESDAY, SEPTEMBER 15th // Cherry Hill North + South
White Eagle Riverside
Joe Canals Delran
Roger Wilco Pennsauken
Wineworks
Bottle Stop Marlton
Martins
Cork N Bottle Mt Holly
Liquor Barn Bordentown
Buy Rite Yardville
Hamilton Tap + Grill
Canals Hamilton
East Windsor Bottle King
Cranbury Buy Rite
Wegmans Princeton
Joe Canals Lawrenceville
Buy Rite Hamilton
Libbys Lawrenceville
Buy Rite Pennington
Pine Creek
Liquor Barn Raritan
Wegman's Cherry Hill
Pour House Westmont
Bottle Stop Gloucester City
Canals Mt. Ephraim
Victors Liquors
Columbo Magnolia
Columbo Glassboro
Warwick Wines HiNella
Cherrywood Liquors
Wine Warehouse Gloucester
Richards Liquors
Buy Rite West Deptford
Wine Warehouse Mantua
Bourbon and Brews
Local Bar and Kitchen
Logan Liquor Mart
Five O'Clock Wines
Hops And Grapes
Clayton Liquors
House of Brews
Canals Berlin
Medford Wine
WEDNESDAY, SEPTEMBER 16th // Shore North + Hills 287
Wegmans Woodbridge
Joe Canals Woodbridg
Bourbon Street Lebanon
Wegmans Bridgewater
Super Savers
Petrocks
Home Wines Hillsborough
B2 North Brunswick
Twenty20
NJ Wine Seller Green Brook
Capital Craft
Buy Rite North Plainfield
Irving Inn
Wine Anthology
NJ Wine Seller
Office East Hanover
Livingston Bottle King
Verona Inn
Glen Ridge Bottle King
Kellys Belleville
Clifton Commons
JR Liquors Wall
Wine Outlet Wall
Spirits Unlimited Point Pleasant
The Shore House
Spirits Unlimited Brick
Buy Rite Silverton
Wine Academy Lakewood
Cornerstone
Spirits Unlimited Jackson
Tre Pizza Freehold
Farmingdale Liquors
Wanamassa Liquors
Little Silver Bottle Shop
Bottles by Sickles
B2 Bistro Red Bank
Union Plaza Liquors
Nics Hometown Tavern
Maloneys
Save Rite Matawan
Gallos Aberdeen
Adelphia
Wine World East Brunswick
Garden State Discount Liquors
THURSDAY, SEPTEMBER 17th // NorthWest + Bergen/Hudson
Wine Outlet Boonton
Wine + Whiskey Morris Plains
Mayo PAC Morristown
Garys Bernardsville
Redwoods
Mansfield Bottle King
ShopRite Hackettstown Center
Sandys Flanders
Market Tavern
Market Place
Sandys Budd Lake
ShopRite Byram
ShopRite Succassuna
Ledgewood Bottle King
ShopRite Wharton
Stone Water
Taphouse 15
ShopRite Franklin
Mac and Lindys Vernon
Jimmy Geez North
Milton Inn
Beef Trust
Shoprite Wallington
ShopRite Lyndhurst
Mason Cellar
Clifton Commons
Grand Saloon
Wine + Beverage Depot
Sunset Landing
Wayne Bottle King
Taphouse Wayne
Diamond Liquors Hawthorne
Super Wine Warehouse
Glen Rock Bottle King
Super Cellars Westwood
Midland Brew House
USA Wine Traders Saddle Brook
ShopRite Lodi
Buy Rite Hackensack
Hudson Lights
Buy Rite Fairview
Bottle Co North Bergen
Corkscrew
Thirsty Quaker