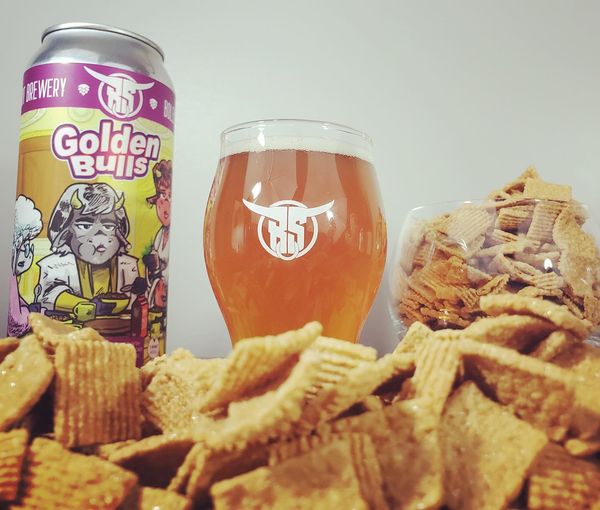 10 Nov

If Star Wars had Betty White and Kilts! This is the Whey, Golden Bulls, and Bravehorn Distribution.

Picture it.  Carlstadt. Two thousand and twenty.   Golden Bulls 6% Breakfast Golden Stout inspired by our favorite Grams- err- Grahams? Brewed with loads of honey malt and brown sugar then conditioned on cinnamon, coffee and cocoa concocted from an old world recipe unearthed from the ruins of Saint Olaf using the traditional stirring technique perfected by Sofia's sauce making.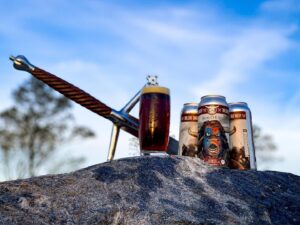 Aye laddies I'll tell ye a tale… Bravehorn is Scotch Ale brewed with both bitter and sweet orange peel then fermented on cranberry puree. Marching out of the highlands in droves of hundreds – and thousands, these warriors have spend years training and bulking up the 7% days of the past to 10.1% ABV today.  Thunderous levels of stone fruit and whisper of smoke from the battle field. They may take our sobriety, but they'll never take our
FREEDOM. ALBA GU BULL!!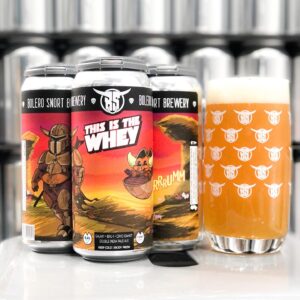 The force is strong with this one.  The next entry in our Steer Wars saga, This is the Whey is our tribute to the gunslinger from Moondalore. Make no Fetts about it, this Big Corellian vessel comes in at 8% packed with Galaxy, Bru-1, and Cryo Idaho-7, and is sure to make you feel like you're covered in Beskow Armor drinking some intergalactic tropical juice!
TUESDAY, November 10th // Cherry Hill North + South (Only Golden Bulls + Bravehorn)
Canals Berlin
Wine Warehouse Sicklerville
Buy Rite Williamstown
Richards Liquors
Clayton
5 o'clock Wines
Center Square Tavern
Wine Warehouse Mantua
Buy Rite West Deptford
Bobkat
Wine Warehouse Gloucester
Warwick Wine Hi-Nella
Colombo Liquors Magnolia
Canals Bellmawr
Canal Mt Ephraim
Wine Legend Audubon
Bottle Stop Gloucester City
Cork N Bottle Haddon
Pour House Westmont
Taunton Forge Liquors
Wegmans Cherry Hill
Wegmans Mt Laurel
Roger Wilco Pennsauken
Esquire Liquors
Wineworks
Canals Bottlestop Marlton
Cork N Bottle Mt Holly
Liquor Barn
Buy Rite Yardville
Canals Hamilton
East Windsor Bottle king
Cranbury Buy Rite
Joe Canals Lawrenceville
Libbys Lawrenceville
Buy Rite Pennington
Pine Creek
Rocky Hill Inn
WEDNESDAY, November 11th // Shore North + South (This Is The Whey Distro Starts)
Wegmans Ocean
JR Wall
Spirits Point Pleasant
Wine Academy Lakewood
Spirits Brick
Buy Rite Silverton
Toms River Buy Rite
Spirits Jackson
Wegmans Manalapan
Asbury Ale House
Wanamassa Liquors
Bottles By Sickles
Portside
Union Plaza
Buy Rite Holmdel
Gallos Aberdeen
Garden State Discount
Spirits Fischer Blvd
Spirits Crossroads
Spirits Bayville
Spirits Forked River
Tuckerton Liquors
Buy Rite Ventnor
Joe Canals Fire Road
Joe Canals Egg Harbor
Hardys Liquors Mays Landing
Passion Vines EHT
Circle Liquors
Gleesons
Canals Bridgeton
Joe Canals Millville
Pic-a-lilli Inn
THURSDAY, November 12th // Central North + North Central

 Wegmans Woodbridge
Joe Canal Woodbridge
Wegmans Bridgewater
Bottle Republic
Twenty/20
Home Wines
Petrocks
Green Turtle No Brunswick
Jersey Fine Wines East Brunswick
VW Edison
Paragon
Wine Anthology
Westfield Sunrise Cellars
Petersons Wine Westfield
Fanwood Liquors
Buy Rite Union
Coda Kitchen
Total Wine West orange
Kellys Belleville
Garys Wayne
Wine and Whiskey Pine Brook
Wine Outlet Boonton
Wegmans Hanover
Wine and Whiskey Morris Plains
Office Tavern East Hanover
Livingston Bottle king
River Grille Chatham
Jersey Fine Wines New Prov
Stirling Hotel
Garys Bernardsville
Redwoods
Shoprite Chester
Long Valley Brew Pub
Mountain Valley Washington
Draught House
Suburban
Sunset Pub Lincoln Park
THURSDAY, November 13th // NorthWest + Bergen + Hudson
Shoprite Wharton
Shoprite Succasunna
Sandys Flanders
Shoprite Hackettstown Center
Sandys Budd Lake
Liquor Factory Byram
Sparta Pour House
Shoprite Sparta
Shoprite Wantage
Mac and Lindys
Milton Inn
Jimmy Geez North
Amazing Grapes
Total Wine River Edge
Hillsdale Bottle King
Wegmans Montvale
Ramsey Bottle King
Long Hill Liquors
Grand Opening North Haledon
Bareburger Ridgewood
Glen Rock Bottle king
Super Wine Warehouse
Midland Brew House
USA Wine Traders Saddle brook
La Taberna
Linwood Hudson Lights
Beer Spot
Buy Rite Fairview
Corkscrew
Thirsty Quaker
Shoprite Jersey City
High Spirits Bayonne
Harrys Wine Cellar
Wine Warehouse Bayonne
Shoprite Lyndhurst
Masons Cellar