18 Sep

Cowthulhu + Explorabull Release Details

From the depths of the sea to the fair reaches of the world, we have you covered this week.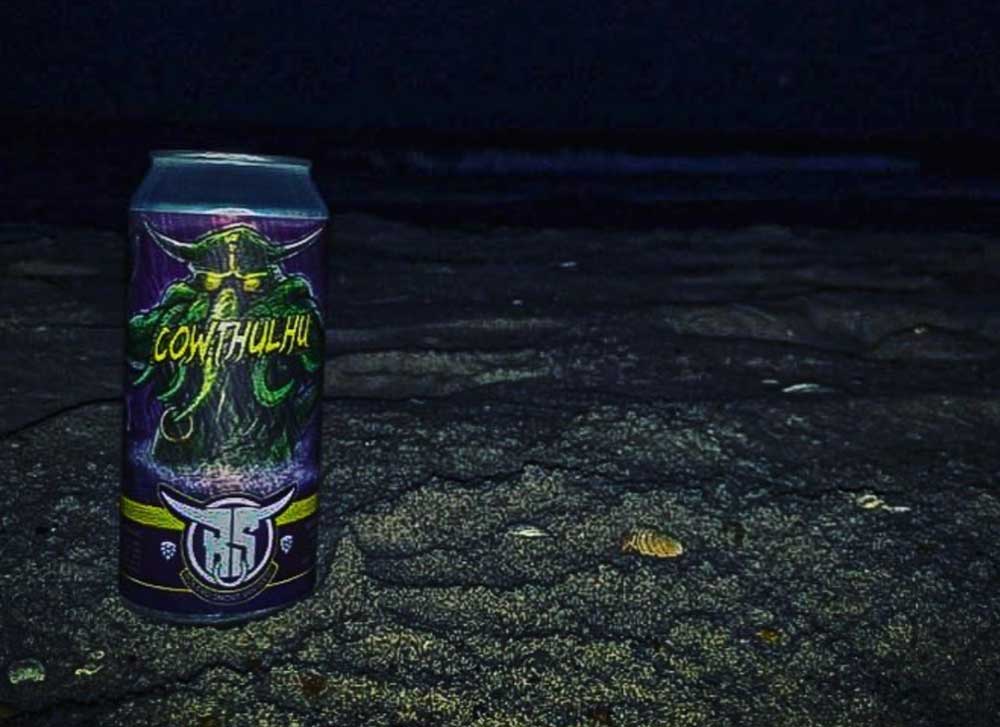 Do you dare answer the call… The call of COWTHULHU! If so, put down your copy of Weird Tales and pick up this new Imperial Gose fit for the Great Old Ones.
We started this fitting tribute with a heavy does of Blueberry and Blackberry and then invoked the eldritch horror with additions of Elderberry, coriander and sea salt. This creates an other-worldly flavor that can not be imprisoned. Surely something H.P. Hoofcraft would be proud of.
16oz cans + draft throughout NJ. Limited Philly/Boston/NYC.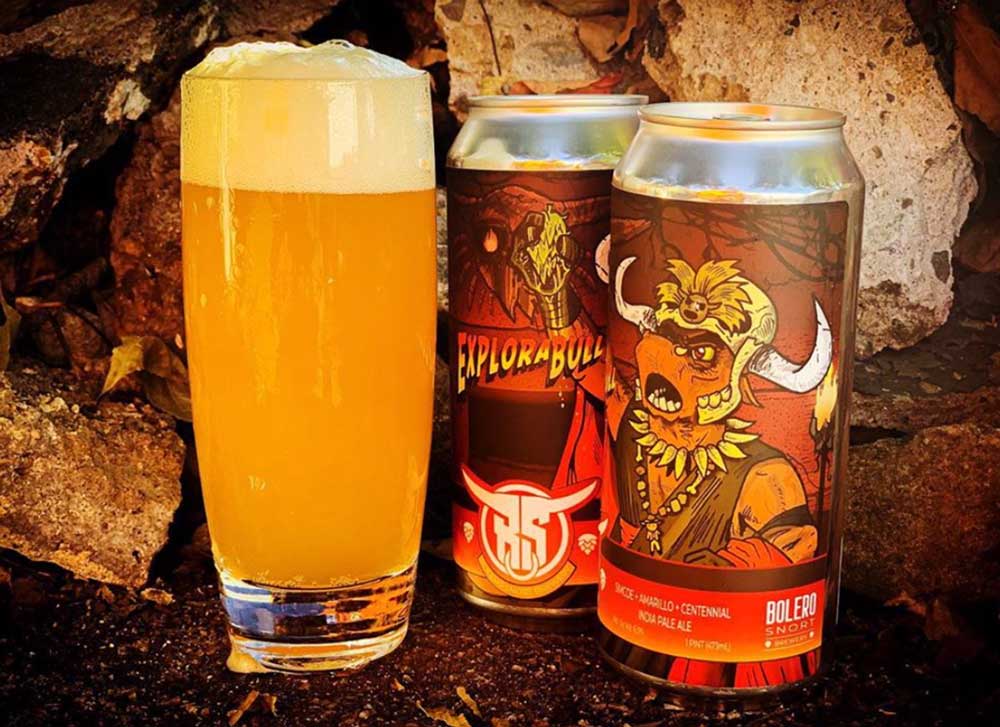 What beer do you drink after saving an entire village and ending a generation's old famine? Explorabull of course! This adventurous IPA makes its triumphant return after a long hiatus. But its back and better than ever, utilizing all our new hopping techniques and our favorite juicy yeast. Heavily hopped with Simcoe and Amarillo and rounded out by a touch of Centennial, bursting from the chest with overripe pineapple and mandarin orange. Sure to please or we'll offer Bob's heart as sacrifice.
16oz cans + draft throughout NJ. Limited Philly/Boston/NYC.
We also canned up some FRESH OVB so that will be rolling out to your favorite spots alongside this week's 2 new cans.
🚐 *** CAN DISTRIBUTION DETAILS *** 🚐 
Distribution of COWTHULHU starts Wednesday, Sept 18th, with Explorabull joining the fray on Thursday, Sept 19th. Deliveries of both will run through the week of September 23rd.
Check back for daily updates. As always, please give us a chance to get these beers to our retail partners and for them to get them into systems/on shelves. Drop dates/locations are subject to change. Any questions hit us up on social media and we'll do our best to help.
WED, SEPT 18th // Greater Cherry Hill + Hamilton/Princeton
***COWTHULHU ONLY TODAY***
– Wegmans Cherry Hill
– Cork N Bottle Haddon
– Victors Liquors
– Colombo Liquors Magnolia  ((NEW))
– Colombo Liquors Gibbsboro ((NEW))
– Cherrywood Liquors
– Wine Warehouse Gloucester
– Bobkat
– Berkley Clarksboro
– 5 o'clock wines
– Timberline wines
– Canals Glassboro
– Hops and Grapes
– Clayton Liquor
– Shoprite Washington Township
– Buy Rite Williamstown
– Wine Warehouse Sicklerville
– Canals Berlin
– Wegmans Mt Laurel
– Martins
– Joe Canals Delran
– White Eagle Riverside
– Roger Wilco Pennsauken
– Bottlestop Marlton
– Maro Bros
– Cork N Bottle Mt Holly
– Joe Canals Burlington
– Liquor Barn
– Canals Hamilton
– East Windsor Bottle King
– Cranbury Buy Rite
– McCaffreys West Windsor
– Wegmans Princeton
– Joe Canals Lawrenceville
– Buy Rite Hamilton
– Blend
– Libbys Lawrenceville
– Buy Rite Pennington
– Pine Creek
THU, SEPT 19th // Inner 287 + Hillsborough/Brunswicks/Hudson
– Wegmans Woodbridge
– Joe Canals Woodbridge
– Sunrise Cellars Westfield
– Fanwood Liquors
– Park Beverage
– Buy Rite North Plainfield
– Warren Wine Central
– Ridge Fine Wines
– Total Wine Union
– Shoppers Wine Union
– Chatham Bottle King
– Pleasant Valley Foods
– Cedar Grove Liquors
– Glen Ridge Bottle King
– Buy Rite Bloomfield
– Wine Country Bloomfield
– Kelly's Belleville
– Clifton Commons
– Shoprite Wallington
– Bourbon Street Lebanon (p/u 1 empty)
– Wegmans Bridgewater
– Super Savers
– NJ Wine Sellers Green Brook
– Buy Rite Bound Brook
– Bottle Republic
– Hillsborough Spirits
– Petrocks
– Hillsborough Bottle King
– Adelphia East Brunswick
– Buy Rite Monroe
– NJ Wine Seller
– Paulino Liquors JC
– Buy Rite Jersey City
– Wine Dads Hoboken
– Thirsty Quaker
– Bayonne High Spirits
FRI, SEPT 20th // Bergen County + Northwest NJ
– Total Wine River Edge
– Wegmans Montvale
– Ramsey Bottle King
– Glen Rock Bottle King
– Super Wine Warehouse
– Grand Opening No. Haledon
– Diamond Wine
– Barrel and Brew New Milford
– Dumont Bottle King
– Linwood Plaza
– Buy Rite Fairview
– Hackensack liquors
– USA Wine Traders Saddle Brook
– Buy Rite Hackensack
– Garys Wayne
– Wine Outlet Boonton
– Joe Canals Parsippany
– Wegmans Hanover
– Morris Plains Bottle King
– Wine and Whiskey Morris Plains
– Garys Bernardsville
– Shoprite of Chester
– Mansfield Bottle King
– Liquor Factory Byram
– Best Cellars Ledgewood
– Ledgewood Bottle King
– Uncorked West Milford
– Best Cellar Haskell
– Beef Trust
– Buy Rite Bloomingdale
– Wine and Beverage Depot
MON, SEPT 23rd // North Shore
– Wegmans Manalapan
– Wegmans Ocean
– JR liquors Wall
– Spirit of 76
– Gerards
– Spirits Unlimited Point Pleasant
– NJ Wine Gallery Brick
– Spirits Unlimited Brick
– Spirits Unlimited Jackson
– Spirits Unlimited Lakewood
– Farmingdale Liquors
– Wanamassa Liquors
– Court Liquors
– Middletown Bottle King
– Portside Bar
– Union Plaza Liquors
– Garden State Discount
TUES, SEPT 24th // South Shore
– Murphys Tabernacle
– Joe Canals Egg Harbor
– Joe Canals Fire Road
– Gleesons
– Circle Liquors
– Tuckerton Liquors
– Spirits Unlimited Manahawken
– Spirits Unlimited Forked River
– Spirits Unlimited 437 Bayville
– Spirits Unlimited Ortley
WED, SEPT 25th // Greater Cherry Hill + Hamilton/Princeton
***MOSTLY EXPLORABULL / COWTHULHU DROPPED LAST WEEK***
– Canals Berlin
– Wine Warehouse Sicklerville
– Buy Rite Williamstown
– Hops and Grapes
– Clayton Liquors
– Canals Glassboro
– Timberline Wine
– 5 O'clock Wine
– Berkley Clarksboro
– Wine Warehouse Mantua
– Bobkat
– Wine Warehouse Gloucester
– Cherrywood Liquors
– Columbo Liquors Gibbsboro
– Warwick Wine Hi-Nella
– Columbo Liquors Magnoila
– Victors Liquors
– Canals Mt Ephraim
– Cork N Bottle Haddon
– Otts Medford
– Wegmans Mt Laurel
– White Eagle Riverside
– Roger Wilco Pennsauken
– Wegmans Cherry Hill
– Wineworks
– Cork N Bottle Mt Holly
– Joe Canals Burlington
– Liquor Barn
– Vintage Vineyards
– Chickies Bordentown
– Canals Hamilton
– East Windsor Bottle King
– Cranbury Buy Rite
– McCaffreys West Windsor
– Wegmans Princeton
– Joe Canals Lawrenceville
– Buy Rite Hamilton
– Blend
– Libbys Lawrenceville
– Buy Rite Pennington
– Pine Creek