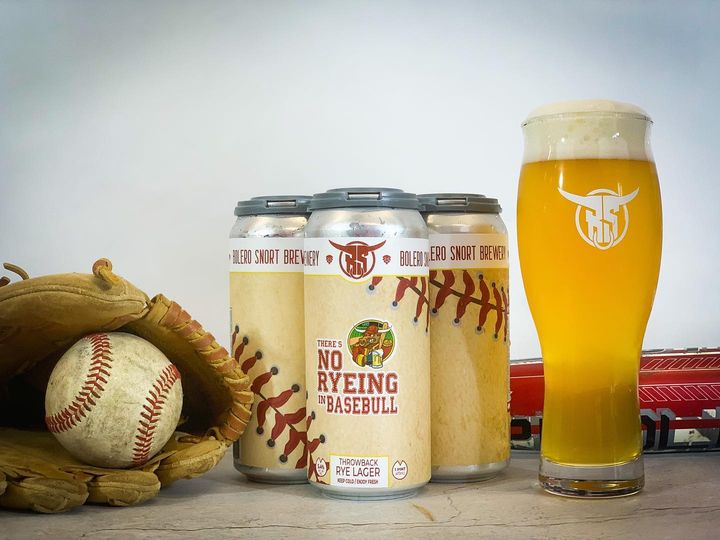 31 Mar

Can you bullieve it!?!? No Ryeing in Basebull! And Moothie BASH!
Baseball season kicks off next week and we figured what better a time to bring back a classic. There's No Ryeing in Basebull
brewed with a heap of rye for a layer of spice and fermented dry and crisp. Infinitely drinkable thanks to an extended cold conditioning.
Who's ready for the weekend?! We're ready to get this off with a BASH!
A Moothie Bash! We crushed this one with a blend of
Strawberry,
Mango and
Peach. Let your taste buds unwind!
TUESDAY, March 30th // Cherry Hill North + South
Canals Berlin
Buy Rite Williamstown
House of Brews
Clayton
Hops and Grapes
Timberline Wine
5 O'Clock Wine
Wine Warehouse Mantua
Buy Rite West Deptford
Wine Warehouse Gloucester
Cherrywood Liquors
Warwick Wines Hi-Nella
Colombo Liquors Magnolia
Kid Rips
Dominics Tavern
Canals Bellmawr
Bottle Stop Gloucester City
Wine Legend Audubon
Pour House Westmont
PJ Whelians Haddonfield
Revolution Morristown
White Eagle Riverside
Wineworks
Canals Burlington
Old Towne Pub Bordentown
Canals Hamilton
East Windsor Bottle king
Cranbury Buy Rite
Jamesburg liquors
Bovine Burger
Princeton Bottle king
Libbys Lawrenceville
WEDNESDAY, March 31st // Shore North + South
Wegmans Ocean
JR Liquors Wall
B2 Point Pleasant
PB Shore House
Gerards
Spirits Point Pleasant
Wine Academy Lakewood
Cornerstone Kitchen
Farmingdale Liquors
Wanamassa Liquors
Bottles By Sickles
Tommys Tavern Sea Bright
Gallos Aberdeen
Save Rite Matawan
Paragon
Canals Bridgeton
Joe Canals Rio Grande
Hardys Liquors Mays Landing
Chickies EHT
Joe Canals fire Road
Tuckerton Liquors
Spirits Forked River
Spirits Fischer Blvd
Buy Rite Silverton
NJ Wine Gallery Brick
THURSDAY, April 1st // NorthWest
Garys Wayne
Sunrise Cellar Caldwell
Wine Outlet Boonton
Wegmans Hanover
Morris plains Bottle king
Mayo PAC
Shoprite Succasunna
Best Cellar ledgewood
Mansfield Bottle King
Shoprite Hackettstown Center
Liquor Factory Byram
Shoprite Byram
Bear Brook Valley
Shoprite Wantage
Mac and Lindys
Uncorked West Milford
Amazing Grapes
Maggies Town Tavern Wayne
The Yard Haledon
FRIDAY, April 2nd // Central North + Bergen + Hudson
Bourbon Street Califon
Bourbon Street Clinton
Bourbon Street Lebanon
Wegmans Bridgewater
Capital Craft Green brook
Home Wine Hillsborough
Petrocks
Buy Rite Milltown
Wegmans Woodbridge
Oh Brians
Stage house Scotch Plains
Buy Rite Union
River Grille Chatham
Six Points Pub
Kellys Belleville
Tommys Tavern Clifton
Shoprite Wallington
Rutherford Wine
Shoprite Lyndhurst
Wine Warehouse Bayonne
Shoprite Hoboken
Sparrow Shipyard
Beer Spot Fort Lee
Dumont Bottle King
Northvale Liquors
Hillsdale Bottle King
Wegmans Montvale
Ramsey Bottle King
Ramsey Tap house
Anthonys Coal Fired Fair Lawn
Stoshs
Plank Pizza
Annabellas