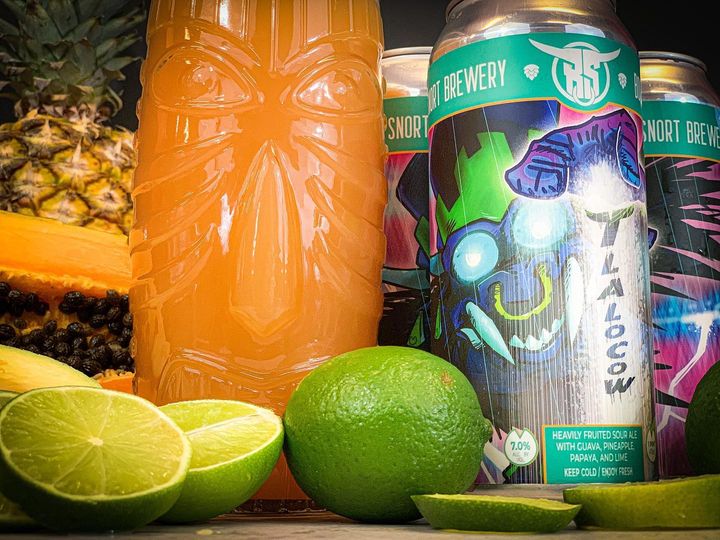 02 Mar

A New God! and El Moochador Returns!

TLALOCOW – the Aztec supreme God of the rain
this one is a tropical oasis.
We poured droves of Guava, Papaya and Pineapple with just a sprinkle of Lime into this heavily fruited sour. Grab a can and slip away to the Spring showers and warmer days just around the corner.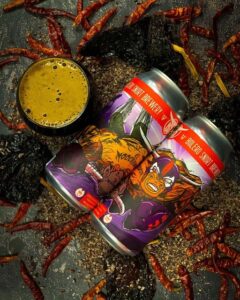 Are you ready to step into the ring?
El Moochador returns!
This big boy slams onto the canvas powered by a blend of
ancho, chipotle, guajillo, pasilla, mulatto and arbol peppers to compliment a full nelson worth of
cocoa nibs, cinnamon, vanilla and milk sugar. Weighing in at 10% this one is sure to hold onto the championship belt for a while. Any challengers? Let's get ready to rumbull!
TUESDAY, March 2nd // Cherry Hill North + South
Canals Berlin
House of Brews
Clayton
Landmark
Hops and Grapes
JG Cooks Carolina Blue
5 O'clock Wine
Buy Rite West Deptford
Bobkat
Wine Warehouse Gloucester
Warwick Wine Hi-Nella
Colombo Liquors Margnolia
Canals Bellmawr
Cork N Bottle Haddon
Rastelli Market Fresh
Nugents Tavern
Canals Bottlestop Marlton
Wineworks
Wegmans Cherry Hill
Roger Wilco Pennsauken
White Eagle Riverside
Esquire Wines
Joe Canals Delran
Maro Bros
Cork N Bottle Mt Holly
O'Connors
Liquors Barn
Old Towne Pub Bordentown
Chickies Bordentown
Buy Rite Yardville
Canals Hamilton
Buy Rite Hamilton
Joe Canals Lawrenceville
Libbys Lawrenceville
Buy Rite Pennington
Rocky Hill Inn
Montgomery Wines
WEDNESDAY, March 3rd // Shore North + South
Canals Bridgeton
Toast Vineland
Hardys Liquors Mays Landing
Passion Vines EHT
Joe Canals Fire Road
Tennessee Ave Beer Hall
Spirits Forked River
Spirits Xpress
Chef Mikes ABG
Spirits Unlimited Ortley
Wegmans Ocean
JR Liquors Wall
B2 Point Pleasant
PB Shore House
Gerards
Spirits Point Pleasant
Wine Academy Lakewood
Tre Pizza brick
NJ Wine Gallery
Buy Rite Silverton
Toms River Buy Rite
Cornerstone
Spirits Jackson
Farmigndale Liquors
Shogun Legends Wall
Saltwater Wine/ Langosta Lounge
Wanamassa
THURSDAY, March 4th // Central North + NorthWest
Garys Wayne
Wayne Bottle King
Wine Outlet Boonton
Office East Hanover
Garys Bernardsville
Best Cellars Ledgewood
Liquor Factory Byram
O'Reillys
Shoprite Sparta
Stonewater
Milton Inn
Maggies Ringwood
Hansils Oakland
Beef Trust
Sunset Pub Lincoln Park
Total Wine Union
Wegmans Woodbridge
Joe Canals Woodbridge
Wegmans Bridgewater
Readington Wine and Spirits
Super Saver
NJ Wine Seller Green Brook
Bottle Republic
Twenty/20 tap house
Home Wine Hillsborough
Petrocks
Buy Rite Milltown
Paragon
NJ Wine Seller Cranford
Six Point Pub
Shoprite Clifton
Tommys Clifton
Clifton Commons
FRIDAY, March 5th // Bergen + Hudson + Central
Little Silver bottle shop
Bottles By Sickles
Royal Atlantic
Portside
Union Plaza Liquors
Garden State Discount liquors
Shoprite Lyndhurst
Shoprite Lodi
Ramsey Bottle King
Glen Rock Bottle King
Super Wine Warehouse
Blackjack Mulligans Hawthorne
Linwood Hudson Lights
Francos Metro
8th street Tavern
Plank Pizza
Front Porch