07 Aug

à la MOOODE + Anudder Day in Paradise!

Howdy folks! Busy week here at BS fresh off the release of our brand new logo which will be appearing on cans from here on out!

Wait..what?!? We did a cider?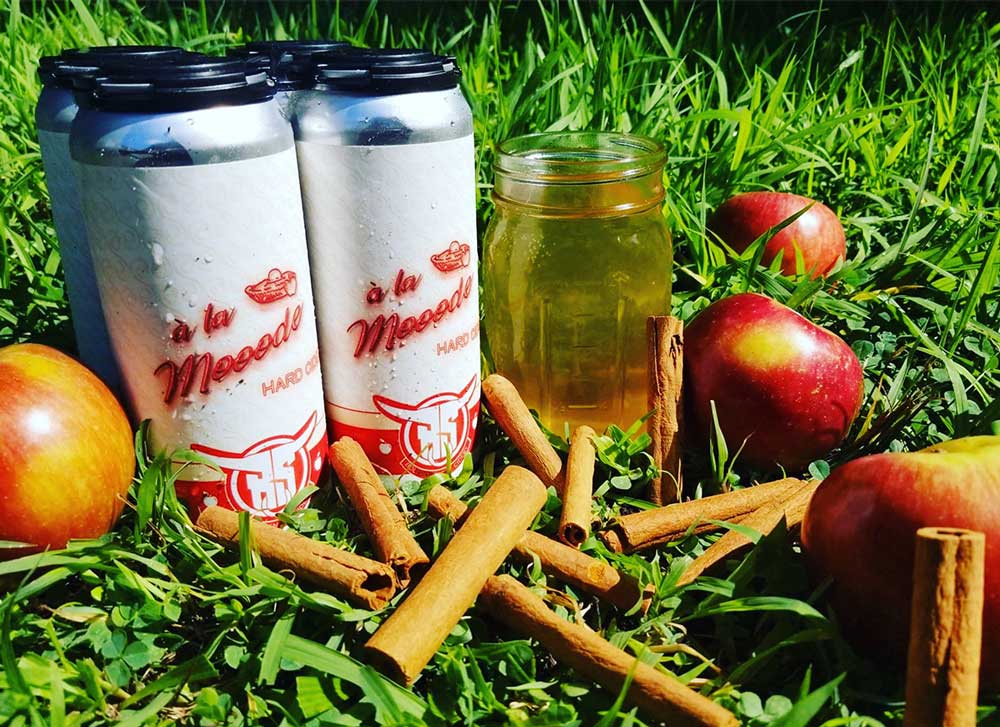 You betcha! We got our hands on some delectable apple juice and then bolero-fied it into a delightful dessert inspired treat! 🍎 🥧 🍨 à la Mooode 🍎🥧🍨 a bright and crisp 5.5% cider conditioned on cinnamon and vanilla.
LIMITED 16oz cans + draft. NJ ONLY.
Are you livin' the dream? Us too!
🌴Anudder Day in Paradise 🏔 is a brand new wheated up 6% IPA , kissed with lactose then hopped to the gills with Cashmere, Calypso, Jarrylo and Cryo Mosaic. A tropical smoothie of aromatics and flavor. The perfect hammock beer, wherever it may hang.
16oz cans + draft throughout NJ. Limited Boston/Philly/NYC.
We close out this round with a fresh batch of 🍊 OVB 🍦 we couldn't think of a better beer to help us welcome in our new look.
LIMITED 16oz cans + draft. NJ + Philly ONLY.
🚐 *** CAN DISTRIBUTION DETAILS *** 🚐
Distribution of Anudder Day in Paradise starts Wednesday, Aug 7th,   à la Mooode and OVB join in Thurs, Aug 8th and will run through the week of August 12th.
Check back for daily updates. As always, please give us a chance to get these beers to our retail partners and for them to get them into systems/on shelves. Drop dates/locations are subject to change. Any questions hit us up on social media and we'll do our best to help.
WEDNESDAY, AUG 7th // Greater Cherry Hill + Hamilton/Princeton
***Anudder Day in Paradise ONLY***
– Wegmans Cherry Hill
– Shoprite of Cherry Hill
– Cork N Bottle Haddon
– Victors Liquors
– Warwick Wine Hi-Nella
– Cherrywood Liquors
– Bottle Stop Gloucester City
– Bobkat
– Buy Rite West Deptford
– Wine Warehouse of Mantua
– Timberline Wine
– Canals Glassboro
– Landmark
– 5 o'clock wines
– Clayton
– Shoprite of Washington Township
– Buy Rite Williamstown
– Canals Berlin
– Ott's Medford
– Classic Wines Wrightstown
– Joe Canal's Delran
– White Eagle Riverside
– Roger Wilco Pennsauken
– Wineworks
– Canal's Bottlestop Marlton
– Cork N Bottle Mt. Holly
– Joe Canals Burlington
– Liquor Barn
– Vintage Vineyards
– Canals Hamilton
– Cranbury Buy Rite
– Wegmans Princeton
– Joe Canals Lawrenceville
– Buy Rite Hamilton
– Blend
– Libbys Lawrenceville
– Buy Rite Pennington
– Pine Creek Liquors
– Stockton Fine Wine
THURSDAY, AUG 8th // Hillsborough/Brunswicks/Hudson
***OVB + A LA MOOODE join the fray**
– check back daily for updates
FRIDAY, AUG 9th // Inner 287
– check back daily for updates
MONDAY, AUG 12th // Bergen
– check back daily for updates
TUESDAY, AUG 13th // Northwest NJ + North Shore
– check back daily for updates
WEDNESDAY, AUG 14th // Greater Cherry Hill + Hamilton/Princeton
– check back daily for updates
THURSDAY, AUG 15th // South Shore
– check back daily for updates